---
A new D&D Adventure Module AND Cooperative Board Game were just announced and will be arriving soon in 2018!
You heard read it right!
Dungeons & Dragons will be releasing a new Board Game tied to an upcoming D&D Aventure!

Summary
This is what we know about the new D&D board game (which will be published by the official D&D partner: Gale Force 9):
Will be published by Gale Force 9
Cooperative board game for 2 – 4 players
Based on an upcoming D&D adventure
$50 Price point
Release scheduled for August 2018
Announced at the New York Toy Fair
GF9 didn't give away the game's title or any detail about it, as it ties to an unannounced D&D adventure, which will come out in September 2018.
As ComicBook states: "We don't know much about the new adventure, other than Wizards of the Coast has given it a codename of "Broadway" ".
Gale Force 9 hinted that we will get more information about the Wizards of the Coast Adventure, in June 2018.
However, thanks to Reddit user Quastors, I discovered that WotC has used many codenames before and they DO NOT relate to anything:
Tomb of Annihilation – Code: Dust
Xanathar's Guide to Everything – Code: Midway
Curse of Strahd – Code: Cloak
Storm King's Thunder – Code: Dagger
Tales from the Yawning Portal – Code: Labyrinth
Mordekainen's Tome of Foes – Code: Marathon
"Broadway" and "Catacomb" are the ones that we still don't know…
Thanks to Tribality, we also know that both "Broadway" and "Catacomb" are D&D Adventures with 256 pages.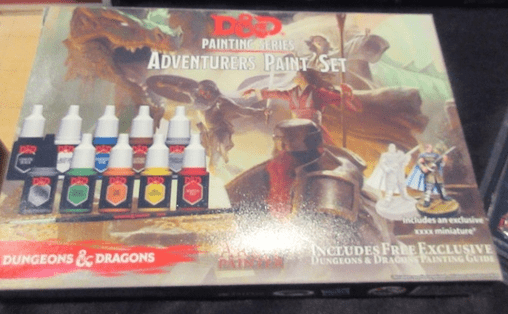 At Toy Fair, ICv2 spoke with GF9's sales manager (Blair Mackey) to learn more about what GF9 will be releasing: "GF9 will also be releasing paint sets with its licensed D&D Collector's Series resin miniatures." for ONLY $25, "It's going to come with 10 paints, a model, and also a paint brush."
GF9 will also have an expansion paint set with 36 colors and a larger model. "This model is a $70.00 prince point. The paint set itself is going to retail for $79.00. You're basically getting that (mini) for free also," Mackey said.
The company is also adding to it's popular D&D Spell Cards line.  "We're going to have monster decks.  Basically, they're the cards that come in the Monster Manual.  They're going to be broken out by level.  They'll be two packs."  The cards include statistics and information about the monster on one side, and artwork on the other.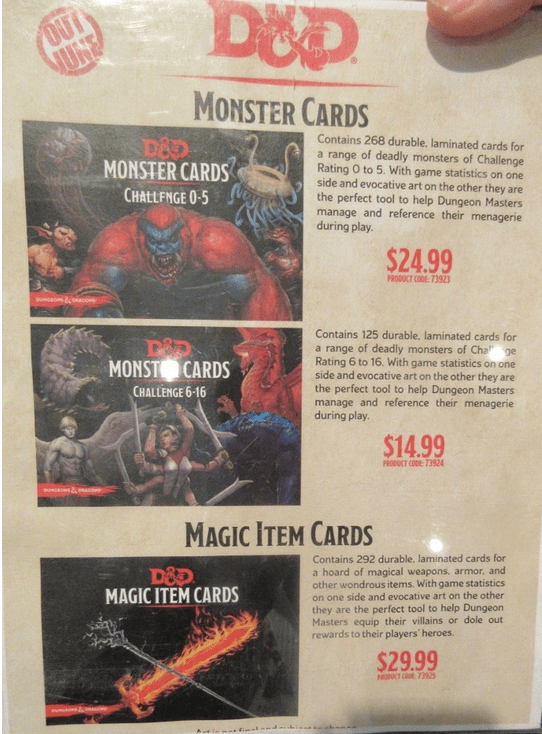 GF9 is officially partnered with Dungeons & Dragons to design, publish and sell official products.
They are the ones who sell the awesome D&D Spellbook Cards, featured in my Christmas Gift Guide
Gale Force 9 has also been publishing D&D Cooperative Board Games like Tyrants of the Underdark (2-4 players) so this game might be played in a similar way.
Tyrants of the Underdark is completely different from other games like Castle Ravenloft, Legend of Drizzt, Wrath of Ashardalon, etc. because it's played with different objectives and DOES NOT include miniatures (well, it does, but they're more like tokens, not minis that can be used when playing D&D 5e).
Current D&D Board Games
Right now, there's a huge list of D&D Board Games that are available and you can buy if you want to:
Conclusion
Wow! That was a lot of content to be published, my wallet will cry but my heart is pumping!
I hope you enjoyed this blog post, feel free to share it with your friends & family 🙂
Follow me on Facebook & Twitter to keep in touch and be notified whenever a new post goes live!
If you want to get rewards, you can visit my Patreon page. Supporting my blog would not only make my day, it would make my year.
This blog post might contain Amazon affiliate links. If you buy an item, Amazon will pay me a small percentage of what you pay for your produc. In that manner, you will be helping me sustain my blog and ensure this useful posts keep coming. Much appreciated!
Also, if you have any question or would like to add anything please leave me a comment in the comment section down below. I'll reply ASAP!