---
On July 23, 2021, Paramount will drop the Dungeons & Dragons movie. HYPE!
So, the Necromancer casts Animate Dead (3rd Level Necromancy Spell) on the D&D Movie and it rises from the ground.
Dungeons & Dragons, our beloved game life, is getting a movie.
Yep.
You read it right.
Dungeons & Dragons is getting a movie.
You can start screaming now.
Okay, let's keep going.
As Metro UK said: "It's not the first time a flick of this nature has been attempted, after 2000's ill-fated adaption that wasn't the biggest winner among die-hard fans and critics."
Some of us heard/read in 2015 that Warner Bros had intended to make an adaptation. Well, it looks like the movie project has shifted studios and now Paramount Pictures is in charge.
"Warner Bros. is out of the picture, and Paramount's setting of a release date indicates a commitment to seeing the project through." (Polygon, 2017)
"We already know that the movie will be produced by the Lego Movie's Roy Lee, that it will be directed by Rob Letterman (Goosebumps, Monsters vs. Aliens, Shark Tale). Originally scripted by David Leslie Johnson (Wrath of the Titans), it's now being written by Joe Manganelio" – EN World

Previous Movie
Remember the previous D&D Movie? I hope you don't.
ComicBook gently reminds us that "In 2000, Jeremy Irons and Marlon Wayans starred in the first film based on the game which was received quite poorly"
Also "(…) the film sits at 10% positive reviews from critics while 19% of users gave the film a 3.5 or higher"
"The Dungeons & Dragons movie from 2000 wasn't exactly anyone's favorite film of the year…or even that week (the Dungeons & Dragons animated series, on the other hand, is remembered far more fondly)." – Den Of Geek
Just. Don't watch it. It was a total disaster and looked very amateur (something that doesn't help the brand name and reputation).
Status
According to IMDB, the new Dungeons & Dragons movie is in its script status yet. Polygon states that "The D&D movie has been in some stage of pre-production since 2015 when a legal settlement paved the way for Wizards of the Coast to begin work with Warner Bros on preproduction."
Although, from what ComicBook mentions, it looks like the movie will have a different format (it won't be an animated movie like many were thinking): "No other details about the film have been announced, but this will be the second attempt at bringing the franchise to life in a live-action format."
Of course the movie has just been anounced and Paramount just acquired the rights to use the D&D name, maybe in mid-2018 we will have more notices about the plot or the cast for the movie.
Movie Plot
IMDB indicates that the plot is undisclosed.
However, Metro UK stated that "The Tracking Board said the premise would centre on 'a warrior and his band of mystical creatures – including a half-dragon and a cunning gnome – as they embark on a dangerous journey to find a mythical treasure."
AV Club mentions that "it's worth noting that this is a separate project from the Dungeons & Dragons that Warner Bros. was making, as well as the movie Joe Manganiello was making (as far as we know)."
According to Den Of Geek, "serious D&D campaigners will recognize the setting of this new movie as The Forgotten Realms." (Drizzt Do'Urden maybe?)
The Cast
There isn't any information confirmed yet but we know Ansel Elgort was set to join the original offering.
As soon as we have more information available, I will let you know in this blog!
Also, please, get Vin Diesel. We all know he's a Dungeons & Dragons lover! He'd act in the movie for free for sure! (lol)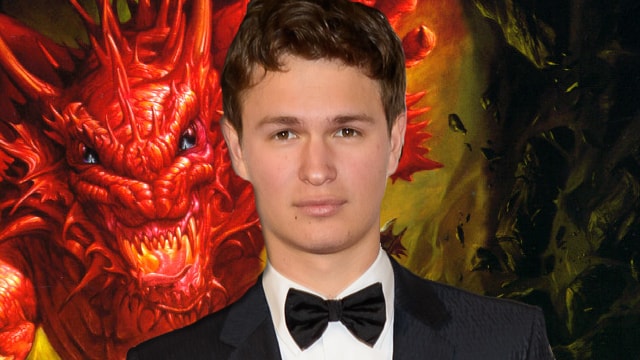 Personal Opinion
Well, as a DM and D&D-l0ver I'm super happy about this new upcoming movie!

Not only because it's D&D related but it's a big chance that Dungeons & Dragons is getting to be exposed to the general public.
Even though in the 80's many people thought this was some kind of satanic game (and some people still do!), D&D got very popular worldwide and is now the pillar of many RPGs and MMORPGs (Runescape, WoW, Diablo, etc.)
Dungeons and Dragons, as a brand, is very known and many people "have heard about it".
Some saw the TV series (which was really good and still valuable to the date!)
Although others know think it's a boardgame…
Nowadays, very few people know what D&D actually is and don't understand very much how a roleplaying game "works".
It's the oportunity for D&D to engage new "customers" and show them the benefits and fun that RPGs have to offer.
This is our chance also, to get more players in our local communities, since many people will be seeing this.
Definitively sales will go up, as they do when a new Harry Potter or Star Wars move comes out.
Conclusion
ARE YOU HYPED AS MUCH AS I AM?
HELL YEAH! I'M SURE YOU ARE
Because this will be a great movie and another opportunity for D&D to shine on the big screen and get more people to know D&D as a brand and get involved in the world's greatest roleplaying game.
We, as DMs and PCs, are responsible of the future of this hobby. Our hobby. Our life (?)
However, we need this movie to be engaging, super well produced and directed to the ACTUAL D&D PUBLIC (please, no more childish movies).
D&D is a game for people with all ages, but the movie MUST be interesting and show the 3 pillars of the game. Not 100%  combat, not all "drama" or roleplaying.
Just make it like LotR series and it will be fine. Every class has its own way to shine and is specialized in something.
As soon as I get more information about the D&D Movie, I'll be posting it here! Peace out.